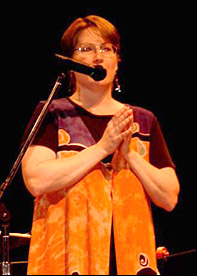 Toni Kellar, Director, Roots To Rhythm™

EDUCATION
Bachelor of Science in Journalism, Ohio University
College of Communication / School of Journalism

Major: Visual Communication / Photojournalism
Minors: Geography and Art
PROFESSIONAL EXPERIENCE
Founder and Director, Roots To Rhythm™ (2002 to present). Design and facilitate rhythm-based development programs for schools, workplaces, leadership retreats, conferences, community groups, wellness agencies, and private events. Facilitator of community drum circles since 1996. Remo Endorsed Drum Circle Facilitator .
Marketing and Corporate Communications Director, Newton Consulting (2009 to present). Newton Consulting is a leading provider of business strategy, information technology and human resource management consulting services, providing customer-focused, values-driven solutions to clients as they move from vision to reality. With its industry changing business model, Newton Consulting attracts and retains the best and brightest in the consulting field to provide services in Business and IT Strategy, Project Management, Systems Integration, Application Support and Development, and Recruiting Solutions. Newton Consulting provides an outstanding value proposition to a growing customer base in North America and Europe, and has been selected to the Inc. 5000, Pittsburgh 100, Best Places to Work in Western Pennsylvania, and as Best Service Provider by the Pittsburgh Technology Council.
Marketing & Communications Officer, the Wilds (2007 to 2009). The Wilds is one of the largest and most innovative wildlife conservation centers in the world with a mission to advance conservation through science, education and personal experience. Located on nearly 10,000 acres in southeast Ohio, the Wilds is home to rare and threatened species from Africa, Asia and North America. Responsible for overseeing all public communications, marketing, and media relations, including website, printed materials, press releases, advertisements, community relations, and media interviews.
Independent Consultant, Branches Creative Services (2005 to present). Provide a variety of development and promotional services for businesses and non-profit groups, including vision planning, media and public relations, meeting facilitation, name development, event planning and logistics, press releases, marketing, art direction, and photography. Organizational Development Facilitation clients included Cambridge Main Street, Dickens Victorian Village, and Guernsey County Farmers Market. Services also include Website Development. Research and organize content, map website structure, and provide all written content and photography to suit clients' individualized needs. Sites include www.dickensvictorianvillage.com and www.rootstorhythm.com. Work in association with Andy Hall Design .
Program Director, Deerassic Park Education Center, Cambridge, Ohio (2003-2005). Developed and implemented outdoor education programs (in-school and field trips) to help meet State Academic Content Standards, including research and writing curriculum; hired and trained program presenter staff; wrote and designed newsletters and other promotional works; photographic coverage of programs and events; oversaw creation of new website, including writing and assembly of all content, mapping configuration, and working with designer; coordinated park events, including program design and presentation, press releases, and marketing; coordinated stage, scheduling, and central communications for 2nd annual Deerassic Classic fundraising event drawing over 17,000 people to the park, including producing audio/visual marketing package and assisting in coordinating hundreds of volunteers.
Substitute Teacher, K-12 (2002-2003). Regularly served as substitute teacher for all grade levels, including special needs, for Guernsey, Noble, and Belmont County schools, Ohio.
Photo Editor of Assignments and Origination, The Hartford Courant (1991-2001). Member of management team for staff of 21 photographers at Connecticut's largest daily newspaper with 10 daily zoned editions. Coordinated logistics for local, national, and international coverage, including staff scheduling, access, and deadline considerations. Served as central communication position between editors, reporters, bureaus, photographers, page designers, story subjects, officials, and the public. Coordinated breaking news coverage. Developed and chose visual content for Page 1; local, national, and international news; and special projects. On team to receive "Overall Excellence in Editing" award in the Pictures of the Year International contest, the highest picture editing award offered by the National Press Photographers Association (NPPA), in 2000 and 2001; also on team to receive "World's Best Designed Newspaper" in Society for News Design's (SND) 2000 international contest. Individual awards from NPPA, SND.
Photographic Consultant, Towery Publishing (1999). Coordinated photographic content, coverage, editing, and promotions for "Hartford: New England Renaissance," a 288-page high-quality, hardcover photo essay book featuring Hartford, Conn., and its surrounding communities.
Staff Photojournalist (1981-1991). New Milford Times (Connecticut); Fort Wayne Journal-Gazette (Indiana); Muskegon Chronicle (Michigan); Cambridge Daily Jeffersonian; Ohio University Post; and Athens magazine (Ohio). Provided photojournalistic coverage of local, national, and international news. Wrote occasional news stories and columns. Awards from National Press Photographers Association (NPPA), Connecticut News Photographers (CNP), and Indiana News Photographers Association (INPA).
Academic Recognition, Ohio University (1985): Cum Laude; Most Outstanding Visual Communication Student.
COMMUNITY SERVICE:
Olney Friends School -- Member, Board of Trustees (2012-2013)
Dickens Victorian Village of Cambridge, Inc. -- Member, Board of Directors (2010-2011); Volunteer; Website Creator / Administrator (2006-2013)
the Wilds -- Donor Member (2010-Present)
Cambridge / Guernsey County Visitors & Convention Bureau -- Past President and Member, Board of Directors (2002-2009)
Cambridge Rhythm & Arts Walk -- Founder and Committee Chairperson (monthly merchants, artists, and entertainment celebration) (2006-2007)
Eastern Ohio Art Guild -- Member (2004-2013)
Percussive Arts Society (PAS) Recreational Drumming Committee -- Member (2006-2007)
Noble Local School District Action Planning Committee -- Member (2006)
National Whitetail Deer Education Foundation -- Board Member and Secretary (2002)
Weaving The Wisdom -- Board Member (1997)
Girl Scouts; Hartford (CT) Corporate Neighbors Program; Girls, Inc.; Literacy Volunteers; and Big Brothers/Big Sisters -- Volunteer (1987-2005)
PROFESSIONAL DEVELOPMENT TRAININGS
Percussive Arts Society International Convention (PASIC): (2013) Indianapolis, IN
Percussive Arts Society International Convention (PASIC): (2011) Indianapolis, IN
Percussive Arts Society International Convention (PASIC): (2009) Indianapolis, IN
Percussive Arts Society International Convention (PASIC): (2007) Columbus, OH
Drum Circle Facilitators Conference: professional development conference sponsored by the Drum Circle Facilitators Guild (2007) Myrtle Beach, SC
Percussive Arts Society International Convention (PASIC): (2006) Austin, TX
[Special thanks to the Ohio Arts Council for providing grant support for this professional development.] Click here for PASIC 2006 highlights .
Drum Circle Music™ with Kalani: drum circle facilitation (2006) Fredericksburg, VA
[Special thanks to the Ohio Arts Council for providing grant support for this training.]
Percussive Arts Society International Convention (PASIC): (2005) Columbus, OH
John F. Kennedy Center For the Performing Arts: "Designing Effective Instructional Residencies for Students" (2005) Cleveland, OH
KDK Learning Circles and Rhythm Events: general group and drum circle facilitation (2005) Santa Fe, NM
Paulo Mattioli Rhythm Journey: drum circle facilitation (2003) Allentown, PA
Leadership Noble: leadership and self-development (2003) Noble County, OH
HealthRhythms™ : drumming for wellness facilitation and protocol (2001) Pittsburgh, PA
Unity With A Beat: drum circle facilitation and world percussion techniques (1997, 1998, 2000) Hebron, CT, and Fishkill, NY
Zenger-Miller and Times-Mirror Corporation: interpersonal management, conflict resolution, and supervision (1991) Hartford, CT
DRUMMING / WORLD PERCUSSION CLASSES and WORKSHOPS
Kenya Masala : Drum Circle Facilitation Workshop (PASIC 2011)
Layne Redmond : fusing Brazilian and Mediterranean rhythms (PASIC 2009)
Judy Piazza: frame drums, doumbek (2009)
Glen Velez : tambourine, frame drum, Middle Eastern Konokol (Drum Talk 2008)
Takumi Kato : Taiko drumming (Drum Talk 2008)
David Kuckhermann : frame drum/Middle Eastern rhythms (Drum Talk 2008)
Raquy Danziger : doumbek (Drum Talk 2008)
Jim Donovan : yoga of drum and chant (Drum Talk 2008)
David Frego: Dalcroze Eurhythmics (PASIC 2007)
Keith Terry : Rhythm Studio: body music workshop (2007)
Dave Holland : Drum Circle Games, Songs, and Interactions (PASIC 2006)
Elie Kihonia : Central African drumming ( Day of Drumming 2006)
Sogbety Diomande : Ivory Coast style djembe (Day of Drumming 2006)
Kalani : drum circle facilitation (PASIC 2005)
Robert Friedman : drumming for wellness activities and theory (PASIC 2005)
Chuck Cogliandro : djembe, African rhythms (2003, 2004, 2005)
Paulo Mattioli : djembe, African rhythms (2003)
Jim Donovan : hand drumming, universal world rhythms (2002 and 2006)
TaKeTiNa, Reinhard Flatischler : Rhythm for Evolution multi-level rhythmic integration (2001, 2005, 2007, 2009)
Glen Velez : private classes and intensives in frame drum, riq, bodhran, tar, Handance method, Middle Eastern rhythms, original compositions (2001 to present)
Barry Bernstein : drum circle facilitation, drumming and wellness, team activities (Unity With A Beat 1997, 1998, 2000)
Randy Crafton : frame drum, doumbek, bodhran, Middle Eastern rhythms (1997-2000)
Ubaka Hill : djembe, spirit of drumming, African rhythms (1997, 1999)
Joe Platz : conga and Latin rhythms (1997)
Sanga of the Valley: djembe (1997)
Arthur Hull : community drumming (1996)
Bonnie Devlin : Haitian rhythms (1996-97)
Abdoulaye Sylla : djembe and African rhythms (1996-97)
Babatunde Olatunji : language of the drum and community drumming, African rhythms (1996, 1998, 2000)
Morwen and Jimi Two Feathers, Earth Drum Council : community drum circles (1996-98)
Layne Redmond : workshops, private classes, and intensives in frame drum, tambourine, tar, Middle Eastern rhythms, world fusion rhythms, original compositions, and ritual (1996 to 2000)
Bob Bloom : djembe and African rhythms, drum circle facilitation (1995-2000, 2005)
Paul Gemme : hand drumming, djembe, ashiko (1994-95)
John Hartzell: snare drum (1972-1981)
SHARED the STAGE
Columbus Symphony (2008)
Groove Project (2003 to present)
Jim Donovan, Elie Kihonia, Sogbety Diomande, Rex Bacon, Harry Pepper, Ed Boas, Audrey Kolb: Drum The Ecstatic International (2006)
Symphony For 1000 Drums (2006)
Southeastern Ohio Symphony Orchestra (2004)
Glen Velez (2002)
Babatunde Olatunji, Bob Bloom, and Alvin Carter (2001)
Christina Boiano (2000-04)
Paul Gemme (2000-01)
Baba Yaga Rhythm Expedition (2000-01)
Drum Circle of Storrs (1997)
Bob Bloom and Drum Ride (1997-2000)
Layne Redmond, Mob of Angels (1996)
Laura Price (1996)
Jonathan Edwards (1996, 2006)
Bonnie Devlin (1996)
Pennsylvania state and county invitational bands (1970s-81)
McGuffey High School Marching Band , Claysville, PA (1977-1981); Macy's Thanksgiving Day Parade (1977); drum major (1980-81)
PERSONAL PATH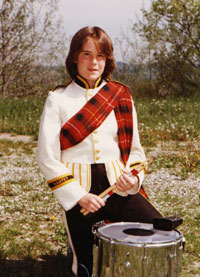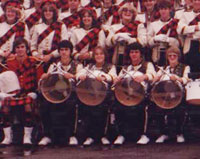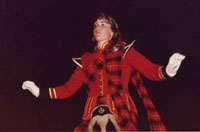 Toni (Finch) Kellar, member of the McGuffey High School Highlander Marching Band,
Claysville, PA. Left to right: playing snare drum as a freshman, 1977; Toni is second
from left snare drummer, junior year 1979; Toni as drum major/field commander
senior year 1980/81-- the beginnings of the path to being a drum circle facilitator?!
I remember my thoughts when it was time for me to choose an instrument to play in the band. I was 9 years old. I was a "nature kid" and spent the best days of my youth playing outside and exploring and learning about the woods and nature. Through this intimate relationship with the outdoor world, I related deeply to the natural aspects of drumming. Two sticks and a tree stump would do it. No need for man-made instruments, complicated mechanics, or written notation. For me, drumming was the "natural" choice – a direct connection to all that is.
That decision led me to Mr. John Hartzell, our school district's percussion instructor. I practiced hard every day because I felt I had to dispel the myth of those days that girls couldn't drum. They never had a chance to believe that anymore. Thank you, Mr. Hartzell, for your faith in me and teaching me the rudiments of rhythm.
It is interesting to me that the loves from my youth – drumming, photography, and the outdoors – led me to my professional career in photojournalism; a job connecting youth with the outdoors; and to my current role developing Roots To Rhythm. And it is especially interesting to me that is all about connections.
As a photojournalist and photo editor, my mission was to connect people – to visually capture a moment in someone's life and present it to the readership community in an effort to foster understanding between people.
As an outdoor education program director, my mission was to connect youth and families with the outdoors.

As a public communications and marketing professional, my mission is to connect people with an organization's story that will hopefully lead to a mutually beneficial experience.
As a drum circle facilitator, I'm doing all these things – providing opportunities for people to connect – using drums instead of pictures or hikes in the woods or stories. In this case, the connection is multi-dimensional – within oneself, with others in the circle, and with spirit.
I have been blessed to experience and enjoy an amazing life ride on the path of rhythm, which has led me to cross paths and connect with the wonderful people listed above and others along the way . I am forever grateful to them all.